Puerto Los Cabos City Guide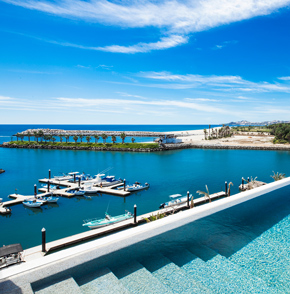 Puerto Los Cabos is becoming one of Cabo's most sought vacation regions. This luxury private community is a short drive beyond San José del Cabo and offers an exclusive, tranquil atmosphere with natural beauty and high-end amenities. There's also a spectacular yacht marina, attractive resorts, magnificent villa rentals and pristine beaches overlooking the brilliant azure waters of the Sea of Cortez. Swimming can be good depending upon conditions. Some of the region's best fishing is just a few miles offshore at the Gordo Banks.
There are a handful of wonderful marina-side eateries that are the perfect spots to sample the freshest local ceviche and a cool beverage as you enjoy sights of the boats in the harbor. The convenient proximity to San José del Cabo means you're just minutes to more dining and shopping. The golf course at Puerto Los Cabos boasts distinctive layouts by both Jack Nicklaus and Greg Norman, giving golfers the rare opportunity to experience both.
---