Animalon by the Sea
A one-of-a-kind culinary experience aboard Los Cabos' first floating restaurant by the acclaimed chef Javier Plascencia. Javier passionately reflects his interpretation of Baja California cuisine using ingredients from the farm, field and sea of the region.
Public Tour Rates:
Public Tasting Menu: $160 per person
Public Tasting Menu + Wine Pairing: $212 per person
Rates include 16% tax and 18% service fee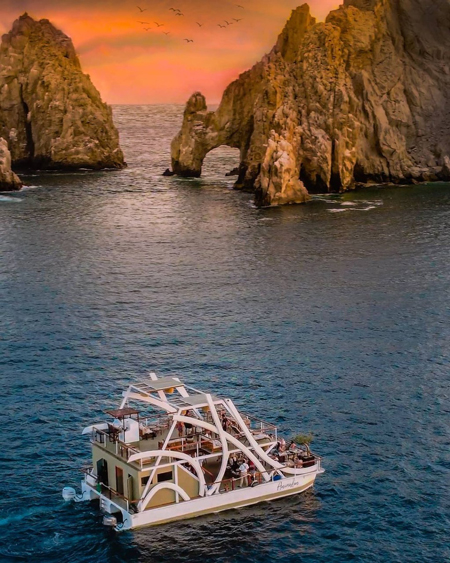 Schedule:
Departs Wednesday – Sunday at 6:00pm sharp and returns to the Marina by 9:00pm. Guests will have the chance to mingle until 11:00pm.
Click here to view Menus
Wine Pairing:
At Animalon by the Sea, guests will enjoy the perfect wine pairing for the seasonal sea-to-table menu with food and beverages as part of a holistic experience, where all the elements interact with each other as a whole. They offer a unique set up, where the surrounding, food & beverage join each other to elevate the experience into a lasting memory. The valuable collaborations include sommelier Angeles Sanchez who created the wine pairing, together with Chef Javier Plascencia and Chef Oscar Torres.
Private Tour Rates:
Take your experience to the next level with a private day or night tour. Animalon not only migrates to become a culinary experience at Sea during dinner, but with the collaboration of La Isla Tours, it can evolve into an adventure during the day transforming into a beach club at Sea, where you can enjoy lounge chairs, towels, snorkeling equipment, and a water mat.
Private Group Buyout: $2,999 (1-8 guests) + $225 per additional guest (up to 40 maximum)
Schedule: Departs at 10:00am and returns by 2:00pm. Earlier departures can be arranged but must return by 2:00pm. Private night tours can be arranged, please contact for pricing.
Buyout price includes menu of your choice served buffet style, house open bar, cruise around the bay, swimming time, water mat and snorkel gear
Premium Bar Upgrade: $45 per person
Deluxe Bar Upgrade: $60 per person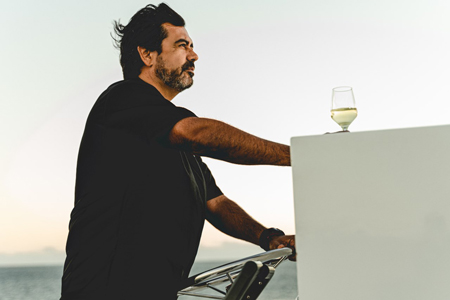 Meet the Chefs:
Chef Javier Plascencia and his team, inspired by the diversity and versatility of the project, created menus with the intention of offering different styles to ensure maximum enjoyment. With the creative essence and experience of 30 years from his travels that led him to his own interpretation of Mexican food, he presents us this unique experience at sea with a 5-course menu. With its peculiar style, diners will enjoy a front row to the best view of the destination, the iconic Arch of Cabo San Lucas.
Having worked under Michelin star chefs, chef Oscar Torres an East Los Angeles native, practices a globally influenced cuisine featuring plates inspired by the Mediterranean, 'Franco-Afrique', India and Southeast Asia. Constantly changing and evolving to showcase his creativity and the abundance of produce sourced from nearby farmers and markets.
Important Information:
Animalon departs from Dock K at the Cabo San Lucas Marina.
Consider reserving in advance as every day is an experience that opens its doors exclusively to 40 guests.
Remember to bring a jacket!
It is recommended that reservations are booked at least one month in advance.
All reservations are non-refundable once confirmed.
Rates do not include 16% tax and 18% service fee