Restaurants in Los Cabos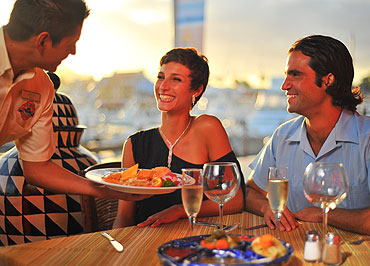 Los Cabos is home to some of the world's finest restaurants. While there are plenty of casual eateries and wonderful roadside taquerias, you'll also find a host of gourmet dining establishments headlined by world-famous chefs.
If you like an amazing ocean view to go with your delicious fare, Cabo San Lucas won't disappoint, with a host of restaurants boasting breathtaking vistas of land and sea. And, you're not restricted to Mexican cuisine in Los Cabos. Restaurants span the range of international cuisines, from Baja-Mediterranean fusion, to American favorites, Italian specialities and fine French dining. You'll find a little for every taste in Cabo. Seafood is always a favorite in Los Cabos, with the freshest local tuna and dorado (mahi mahi) showing up on menus, whether grilled or enjoyed as sashimi. Get out and explore the wonderful culinary adventures available at Land's End.
• Cabo San Lucas Restaurants
• The Corridor Restaurants
• San Jose del Cabo Restaurants
• Todos Santos Restaurants